One of the best known robot animations is "Gundam" in Japan. I am a Gundam Otaku(geek) since I was at age 8. I have build tons of Gundam plastic models and it is still one of my hobbies. The reason why I got interested in AI is Gundam, and it was my first time to hear the word, artificial intelligence, in my life. It is the only mobile-suits that processes AI.
Gundam series has started in 1979, known as "The first Gundam", and now there are 23 series of Gundams for total, including TV anime and moveis.
I will talk about Gundam series more in the future, but this time, I will introduce a paradise for all Gundam geeks in the world. I have been dreaming to visit this place for very long time.
It is located on "Odaiba, Diver City", called "Gundam Front Tokyo".
Google Map embedding does not show it correctly, the link below is better.
When you get near Diver city, the  1/1 size of "first gundam" welcomes you.
Getting closer.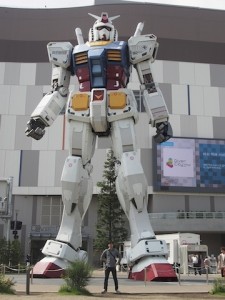 Gundam Front Tokyo is on 8th floor of Diver city, which the web site does not clearly explain the floor it is located. The entrance ticket is 1000 yen and you need to pay extra for special areas.
Here is the few pictures of inside of Gumdam front Tokyo.
There is a area called "Gumpra Tokyo" (Gumdam plastic model Tokyo) which more than 1000 of Gumdam plastic models are displayed.
and 1/1 size "Core Fighter" and 1/7500 size of A Baoa Qu in the first series.
1/1 size of Strike-Freedom Gumdam, you can go to the cockpit and take a photo. It is not free.
There are shopping areas that you can get varieties of Gumdam goodies.
For more info,
http://gundamfront-tokyo.com/en/