Today, 3/8, there is a first manhole summit in Tokyo ever.
Manhole summit?? Well, it is an art summit.
When you imagine a manhole, it looks like this.
Boring, boring, boring. None look at closely. What if it is an art like this.
While traveling Japanese cities Hokkaido to Okinawa, you might find their own unique cultures such as festivals, foods, etc… However, one of the interesting way to look their culture is on the street, on the manhole. Manholes in the cities represent their characters. It is regarded as an art, and today is the first manhole art summit in Tokyo.
Here is couple the manhole art in the cities.
1. Aomori
2. Fukui
3. Hiroshima
4. Hokkaido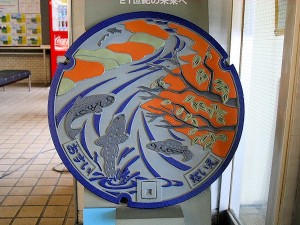 5. Saitama
6. Nagano
7. Okinawa
8. Osaka
9. Yamanashi
Enjoy the art of manhole!!
More on http://matome.naver.jp/odai/2133837504782749101